Main Clients and Key Projects
José has worked for clients in public, private and non-profit sectors, both in Ireland, Europe and South America, and developed and submitted Projects for European funding under several EU Programmes, including ECOS-Ouvertures, Interreg, ALTENER and the LIFE-Environment Programme.
Key Projects Case Studies: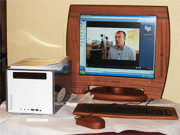 Client/Employer:
Multimedia Computer Systems Ltd. (MicroPro)

Multimedia Computer Systems Ltd. is a Dublin based SME that specialises in the design and manufacture of computer systems, software packages, networking and peripherals. They currently manufacture MicroPro PCs and servers, which incorporate a number of environmental design criteria, and more recently, the iameco range of ecological computers. The company also repairs and maintains all computer systems, printers, laptops and networks, which extends their operational lifetime.

Key Project:
Iameco Ecological PC's and Laptops
José has been Project Manager in three projects developed to date, to maximise energy efficiency, eliminate waste and reduce the carbon footprint of the iameco range of computers. These projects are - ZWPC - Zero Waste Personal Computer (2003-05) and Iameco2 (2009-12) - both funded by the EPA's Cleaner Green Production Programme and ZeroWIN Project (2009-2913), funded by the EC FP7 Programme, which is exploring the feasibility of developing zero waste industrial networks for PCs.