Main Clients and Key Projects
Key Projects Case Studies: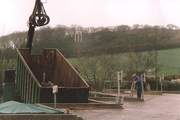 Client/Employer:
Sunflower Recycling
www.sunflowerrecycling.ie/

Sunflower Recycling is a community based recycling project based in Dublin north inner city. Sunflower Recycling are a social economy enterprise, providing training and employment for young and long-term unemployed persons, in a various types of recycling and reuse endeavours. As Partners in an INTEGRA Project, Sunflower commissioned José Ospina to research the work of the COBREM consortium of social economy enterprises in Brittany and compare it with its own practise.

Key Project:
Comparative Study TRIBORD and Sunflower Recycling

This comprehensive comparative study was researched in Ireland and over a week's placement in Breast, Brittany. The result is a study that explains the different frameworks for social employment in France and Ireland, and looks at the strength and weaknesses of the organisations researched. The study is a record of how the social economy can provide environmental benefits, while creating social inclusion.