Main Clients and Key Projects
José has worked for clients in public, private and non-profit sectors, both in Ireland, Europe and South America, and developed and submitted Projects for European funding under several EU Programmes, including ECOS-Ouvertures, Interreg, ALTENER and the LIFE-Environment Programme.
Key Projects Case Studies: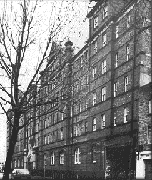 Client/Employer:
Novas Ouvertures Group (Ireland)
www.novas.org

The Novas Ouvertures Group is a consortium of housing associations and service providers covering England, Scotland, Wales and Northern Ireland. The Group specialises in the provision of supported housing for street-drinkers and homeless people, but provides a range of support, training and employment services for other vulnerable groups. In 1996 the Group set up a housing association in Ireland, Tir na Droichead, to develop social housing and hostel accommodation for homeless and vulnerable persons. As Project Development Manager for Novas, José Ospina promoted and managed a number of European Projects as well as a hostel for street drinkers in Limerick.

Key Project:
Novas-Ouvertures, the Feasibility Study of a Third Sector Network for Housing and Employment.
This exchange project was funded by the Third Sector and Employment Programme (DGV). Partners included Tir na Drocihead (Ireland), Bridge Housing Association and Arlington Care Association (UK) CISME (Reggio Calabria) CECOP R&D (Brussels). The Novas Project aimed to study the role and extent of housing provision as a force for social and economic integration in the European Union, to investigate good practice at a local and European level, in terms of housing-related initiatives that create social and economic integration and in terms of networking or transnational groupings that enhance this work, and to survey existing Social Economy initiatives that involve housing-related activities. The Project also developed business plans for three pilot social economy organizations working in this field, in Ireland, Italy and Spain. http://ec.europa.eu/employment_social/empl_esf/3syst/en/novas.htm